WOMEN IN SCIENCE: TODAY'S CHALLENGES – TOMORROW'S PROSPECTS
ROUNDTABLE DISCUSSION followed by a RECEPTION
This event is to mark the 100th anniversary of the death of Vilma Hugonnai, the first Hungarian female physician, and is part of a series of events to commemorate this anniversary in association with UNESCO.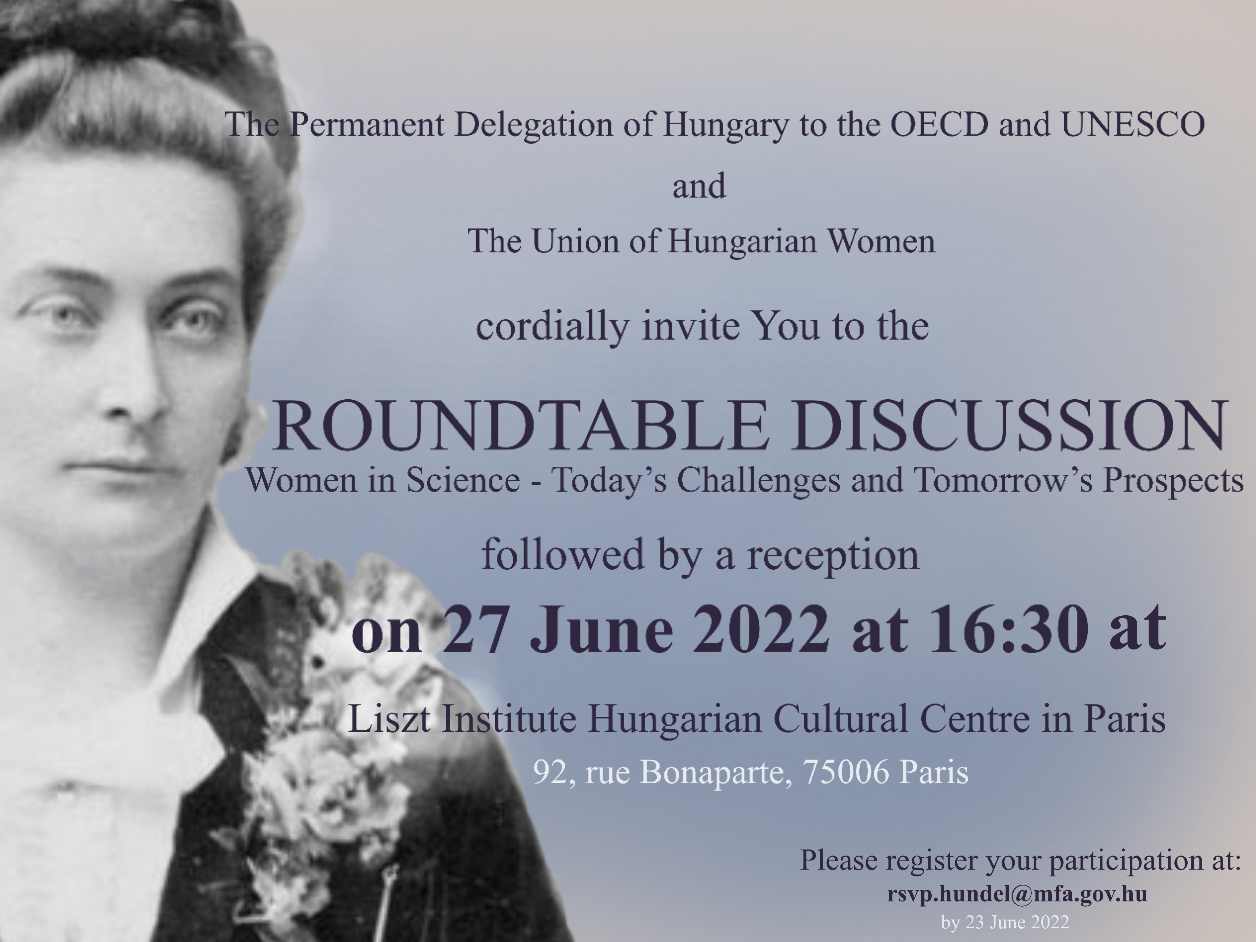 The event will take place on 27 June 2022, starting at 16:30, at the Liszt Institute Hungarian Cultural Centre in Paris (92, rue Bonaparte, 75006 Paris).
You are invited to register your participation at the following e-mail address: rsvp.HunDel@mfa.gov.hu
By evoking the historic example of Vilma Hugonnai, the roundtable discussion will address crosscutting issues and offer personal perspectives related to the role of women in science, as well as education and scientific careers outside one's home country.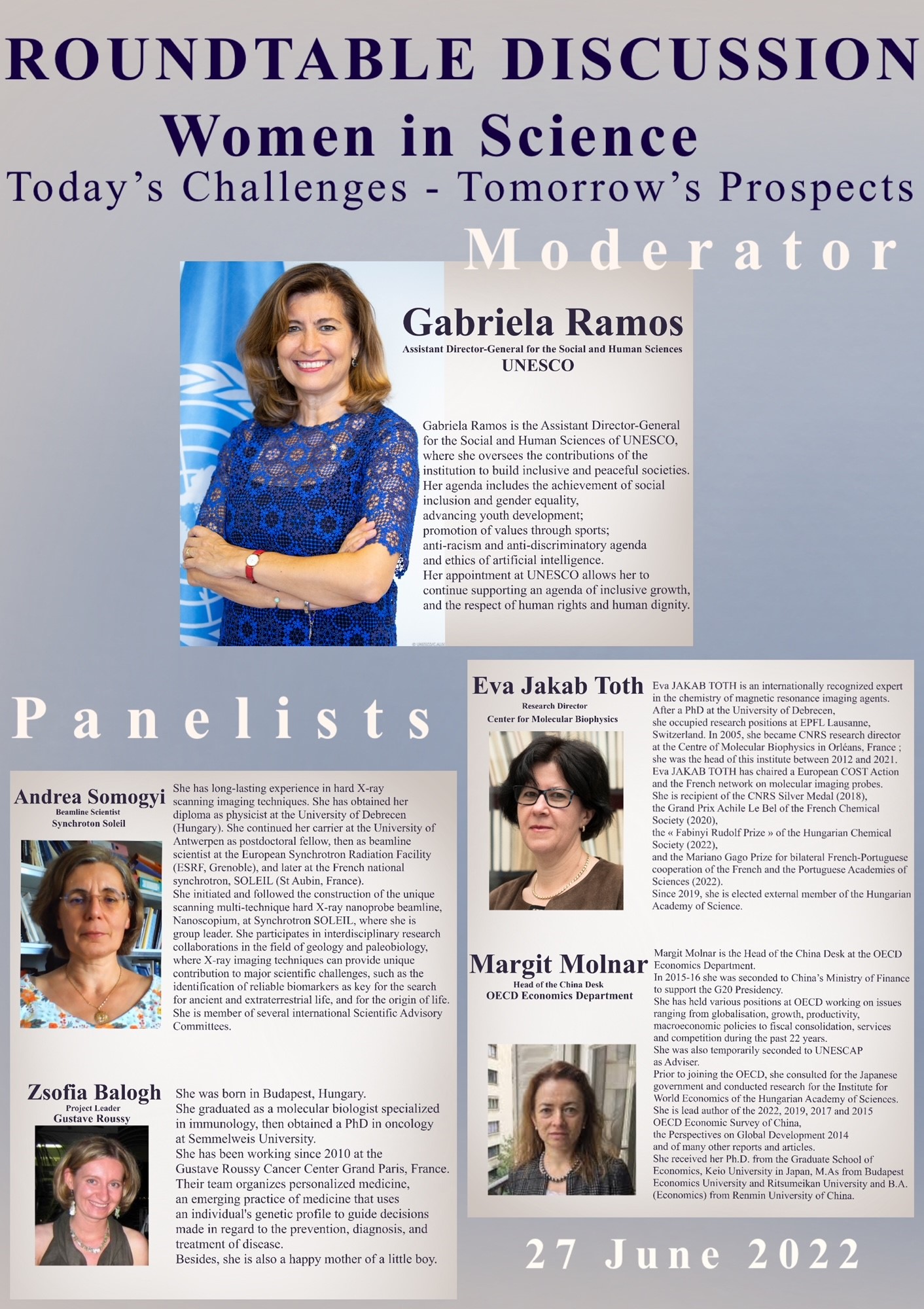 The event is organised by the Permanent Delegation of Hungary to the OECD and UNESCO, and the Union of Hungarian Women, with the support of the Liszt Institute Hungarian Cultural Centre in Paris.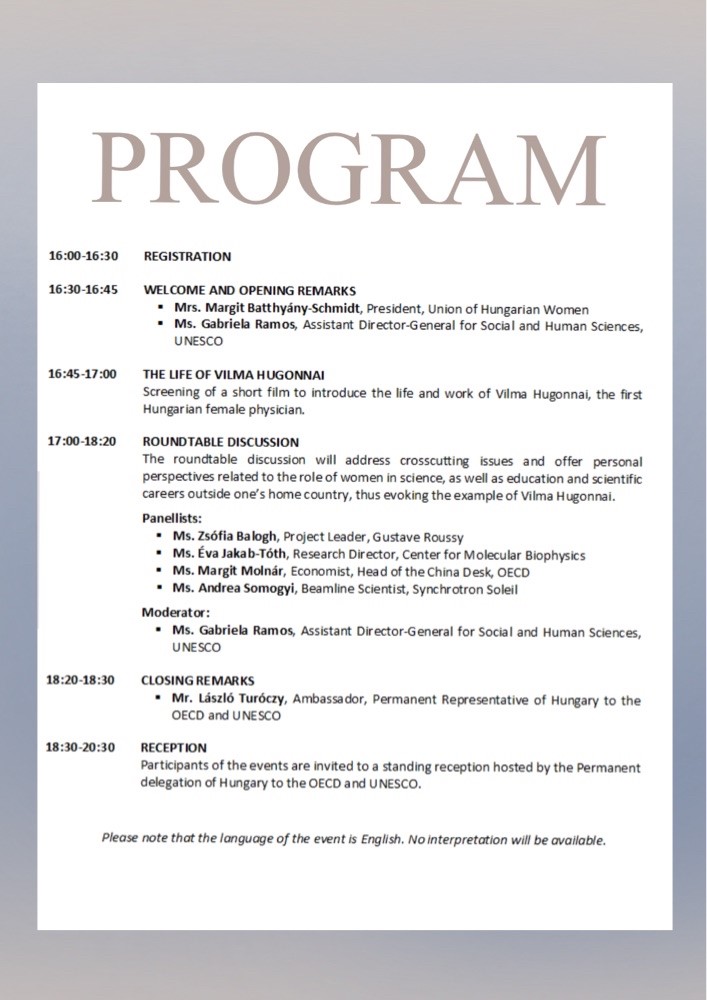 WHO WAS VILMA HUGONNAI?
A keen promoter and symbol of women's rights to education and medical profession, Vilma Hugonnai (1847-1922) was the first Hungarian female physician. Since women were not allowed to participate in university level education in 1870s' Hungary, she had to study medicine in Zürich, Switzerland. Having received her medical degree in 1879, she returned to Hungary, where she was confronted with the authorities' refusal to recognize her qualification. Hence, instead of starting her career as a medical doctor, she had to take a midwife exam and start to practice as a midwife. While doing so, she took part in a number of organizations and initiatives that fought for women's equality, including voting right and girls' education. In 1895, when a royal decree finally made it possible for women to pursue university studies in humanities, pharmacy and medicine, she reapplied for the naturalization of her Swiss diploma, and on 14th of May 1897, eighteen years after her graduation in Zürich, she obtained her degree in Hungary, too. In 1914, when the country did not have enough army surgeons to take care of the wounded, Vilma Hugonnai, at the age of 67, completed an army medical course to be able to help, together with her 84 female partners.
Her relentless struggle for the recognition of her medical qualification, her fight for women's voting right and girls' education, as well as her achievement in public health education made Vilma Hugonnai a symbolic figure of women's equality in Hungary. The 100th anniversary of her death is on the list of anniversaries to be celebrated in 2022 in association with UNESCO.